Mr. Jonathan Jones
B Sc. MB ChB MRCGP FRCS Ed (Tr. & Orth.)
Hand & Wrist Surgeon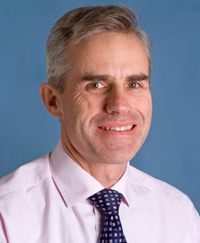 Mr. Jonathan Jones
Mr. Jonathan Jones was appointed as Consultant Orthopaedic Surgeon at Peterborough and Stamford Hospitals NHS Trust in 2003. His main specialist interests is Hand & Wrist surgery. He has developed the Hand Service at Peterborough Hospitals and the Stamford & Rutland Memorial Hospital and also privately at the Fitzwilliam Hospital in Peterborough.
Before his Medical training, he completed a dual honours degree (IIi) in Zoology and Physiology (Sheffield 1984).His medical student education was at Sheffield University Medical School attaining MB ChB in 1989, whilst joining the Royal Airforce in 1986 on a Cadetship. His basic Surgical training included working in Miltary & Civilian Hospitals and active service overseas. His Orthopaedic training (HST) was on the London rotation (North Thames) centred at Charing Cross Hospital(Imperial College), Chelsea & Westminster and St Mary's Hospitals.He completed Hand Surgery Fellowships at the Pulvertaft Hand Centre in Derby (U.K) and at the St. Vincent's Hospital in Melbourne (Australia), where he was a microsurgical Fellow at the Bernard O'Brien Institute of Plastics and Reconstructive Surgery.
Jonathan is a member of the British Society of the Surgery of the Hand, World Orthopaedic Concern, British Orthopaedic Association and takes part in Surgical Missions in Africa.
His clinical practice includes:
Elective Hand & Wrist Surgery
Hand Trauma Surgery
Complex Trauma Reconstruction
Surgery for Non-Union and Bone Infection
To know more about Mr. Jonathan Jones please click below links.
Contact Details
Private Secretary: 07896 368611
Appointments: 01733 261717
Fax: 01733 261119
Email: jwmjones@doctors.org.uk